Coronavirus and Your Pet
Since the World Health Organisation declared the 2019 novel coronavirus (also known as CoVID-19) a global health emergency, you might have been wondering if this virus could also make your pet unwell.
The World Health Organisation (WHO), World Small Animal Veterinary Association (WSAVA) and the American Veterinary Medical Association (AVMA) have all stated that they do not believe this current strain of coronavirus that has been affecting humans, can be passed from humans to companion animals or from animals to humans. However, they have suggested that if your pet has been in contact with a person who has been confirmed to have coronavirus, that you should first call your veterinarian to discuss your next steps. 
Despite not believing to be susceptible to this particular strain of coronavirus, both cats and dogs can be infected with other types of coronavirus. One type that affects dogs is canine respiratory coronavirus, which can cause an acute upper respiratory infection. And feline enteric coronavirus, which is one type that affects cats, can lead to a cat developing a disease known as feline infectious peritonitis (FIP).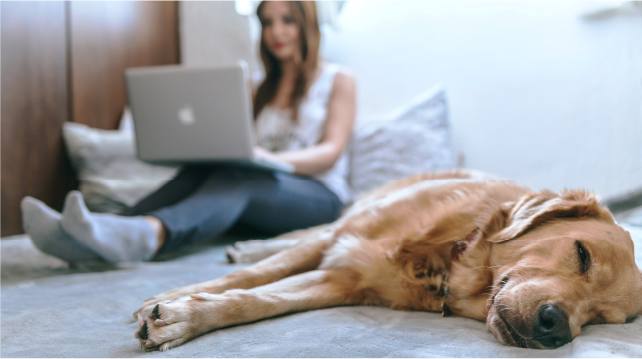 Both types of coronavirus that can affect dogs are more commonly found in places where large numbers of dogs are housed together, such as in shelters or kennels. There are vaccines available to protect your dog against coronavirus infection, but you should speak to your veterinarian about whether your dog requires these vaccines. The American Veterinary Association does not recommend that dogs are vaccinated against coronavirus.
Feline coronavirus is a fairly common viral infection and affected cats often do not show any signs of infection but can sometimes have diarrhoea. Just like in dogs, it spreads easily between cats that are living in close contact such as in shelter or kennel environments. The best way to prevent the spread of coronavirus infection between cats is to regularly scoop litter boxes and to use appropriate disinfectants when cleaning. A vaccine for coronavirus in cats is available in the USA, Canada and Europe but is not recommended by the American Association of Feline Practitioners (AAFP).
If you or others who care for your pets are unwell, you should avoid handling your pets or wear a face mask if you must be around animals. Thorough handwashing with soap and water for around 20 seconds is always recommended after handling animals to prevent the spread of bacteria such as E. coli and Salmonella.
If you have read this article and are still concerned about coronavirus affecting your pet, the best person to speak to is your veterinarian.